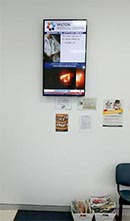 Wilton Medical Centre
We have had a Total Interactive TV installed into our waiting room recently. The Television on the lower part keeps out patients entertained whilst we and other local businesses are able to keep our community up to date on what's going on. We were also supplied with a business card board so the local businesses that are advertising can supply our patient with Direct and take away contact details.
Great Company to deal with, easy to communicate with and nothing is ever too much of a problem.
Jodie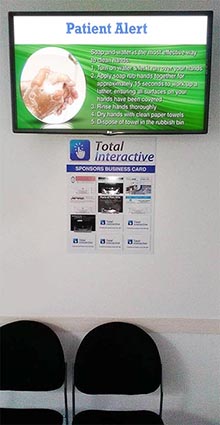 Goodwill Medical Centre
The TV and the business card dispenser installed by Plasma-Tech Digital Solutions is very good.
The installation was perfect and professional
The advertisements gives the patients and people visiting our clinic information about some new business and their details while waiting in the clinic. The facility of picking up a business card on the spot is an added advantage.
The medical centre is able to advertise and inform the patients of the facilities available and make update it from time to time.
Overall I am very happy with Plasma-Tech Digital Solutions for the work they have done and wish them all the best.
D Georgelin Kurian
Director

Broadwater Medical Centre
"Terrific technical support guys! Our new newsreel addition was created and up on the screen within 24hrs. Great job."

Recently I forwarded quite a lot of script for addition to our current newsreel - patient survey feedback information (about 5 screenshots). The production team (led by Kacey Hansen) had it created and up on the screen with a day or so - within plenty of time for our accreditation visit - which is today!! Special thanks to you Luke too. The surveys have just arrived though and the screen is working and all in ship-shape thanks to your tech support this morning before opening time.
Cheers,
Sue Wallrodt
Practice Manager
Broadwater Medical Centre
Champion Drive Medical Centre
We are pleased to recommend Total Interactive to any company looking to utilise their package.
Over the last number of weeks, I worked directly with Total Interactive, in having our system installed, during which time they provided my business with excellent support and service. The system was installed with ease and creates a great professional appearance. We are finding it extremely useful for our Medical Centre.
Total Interactive have created several promotions for our company that are currently displayed on the screen. Our patients found the system to be entertaining and informative, and it has now become our main source of information.
Before signing up with Total Interactive we reviewed several other solutions, however we have found that having the live news on our screen and the ability to insert promotional messages in real time extremely helpful in providing information to our clients and has put Total Interactive in a league of their own.
We are very happy with the system and I can confidently recommend Total Interactive as a solid and reliable Digital Signage company. Their support, experience and creativity make them experts in their field.
Yours faithfully,
Jackie Farina
Practice Manager
Champion Drive Medical Centre